Location Marketing with uberall
Make your company visible
Why do I need location marketing?
The customer journey did rapidly change over the last few years. More and more consumers look online for local products and services, to buy them afterwards directly from the nearest place.
There for the consumers aren´t just looking at Google on their desktop or smartphone anymore. They have voice assistans like Alexa and Siri, or navigation equipments and apps - they all give users infos about companys.
The search history for "in my area" increased over the last 2 years by 150%.( Source: Think with Google) - ascending trend.
When users search for companys like yours, you should be present - and this on every platform and device.

Digital location marketing gives you many possibilities, to load your local company data fast, efficent and across platforms. It also povides that you will be found, if a costumer searches for your products or services.

Don´t give your chance away to your competitors. Be present and increase your business success.
Curious which information of your company is showed on different platforms?
Look for yourself:
Afterwards you will receive an overview of all of your company information, which are displayed on all the different kinds on platforms.
Probably you will see that some of your information may be old or incorrect. Potential customers will not find your company on these channels.
In order to provide that things like this don't happen, you should use location marketing.


How does location marketing work?
Over the location marketing cloud of uberall your listing will be displayed on over 40 different kind of plattforms.
Therefore a control center is been used, in which all of your location data will be captured and managed in a central system. This data will then be shared over to different platforms.
Changes only have to happen in on place in the control center and will be refreshed in real time on all of the platforms. Which helps you to get the maximum wide range and in the same time the full control over your company data.
The following plattforms are open for austria: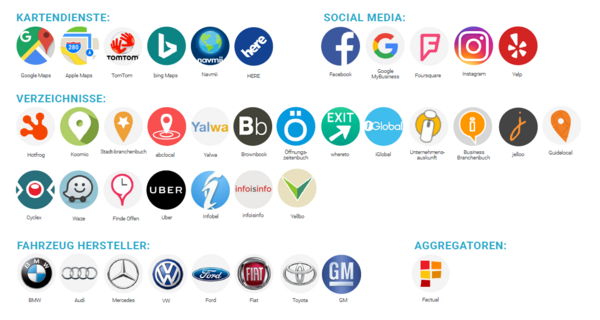 The additional product "Engage" enables social interactions, such as ratings etc. Thereby you have full control over your reputation in the network and you can also increase your customers satisfaction and gain trust in your brand.
"Engage" is available für a small monthly additional charge.
Interested? We would be glad to tell you more about digital location marketing and the related chances for your company.